Earl Scruggs Merchandise
I Saw the Light With Some Help from My Friends

Earl Scruggs with Special Guest Stars


CD: $15


The Earl Scruggs Revue with Earl Scruggs, Randy Scruggs, Gary Scruggs, Steve Scruggs, Vassar Clements, Bob Wilson and Jody Maphis.

Featuring Guest Stars: Linda Ronstadt, Tracy Nelson, Arlo Guthrie, Norman Blake, Karl Himmel and The Nitty Gritty Dirt Band.

Features 3 Bonus Tracks. 20-bit Digitally Remastered. Copy Protected CD.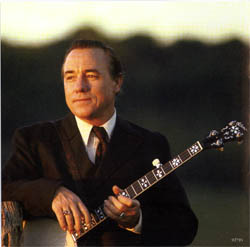 I Saw the Light With Some Help from My Friends
1. Lonesome and a Long Way from Home

2. Silver Wings

3. It's a Picture from Life's Other Side

4. Motherless Child Blues

5. Some of Shelley's Blues

6. Never Ending Song of Love

7. Rock Salt and Nails

8. Banks of the Ohio

9. Ring of Fire

10. Propinquity

11. Fireball Mail [* Previously Unreleased Bonus Track]

12. Tramp on the Street [* Previously Unreleased Bonus Track]

13. Cure [* Previously Unreleased Bonus Track]

14. I Saw the Light

Released July 12, 2005


---
Click here for the Order Form
Back to the Merchandise Catalog
© 2003 Earl Scruggs